The First Dalian Alliance Spring and Autumn Double-Games Football Super League Will Be Grandly Opened at Sports Center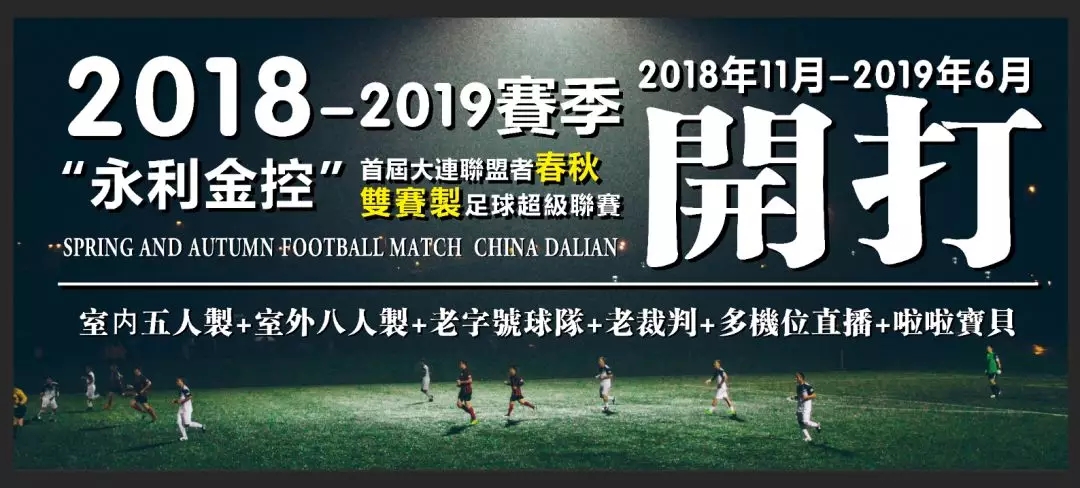 The "Yongli Jinkong" 2018-2019 sports competition season The First Dalian Alliance and the Spring and Autumn Double-Games Football Super League, jointly sponsored by the Shidai Sports and the Peninsula Morning News, undertaken by Dalian Sports Center, will be grandly opened at the comprehensive training hall of the Sports Center on Nov. 11, and the event will provide a platform for fair competition, making friends by football and exercising body and mind.
It is understood that the event will be opened in November this year and closed in June of next year, lasting for 8 months. There are eight football clubs in the whole city have entered for a competition. Each team is the strength team, and the future competition will be very wonderful. The competition adopts the nationally pioneered double-games system innovative competition mode, that is, the "indoor five-person system and the outdoor eight-person system" competition form, and will be proceeded in the comprehensive training hall and the No. 4 external field of the Sports Center every Sunday.
During the event, the sponsor will cooperate with the sports channel of Dalian radio and television, sports broadcasting and Hao ball broadcasting to cover the whole competition. From the live broadcast of every competition, the professional explanation of the commentator, the hot dance of cheer team to the technique and tactics level of participating teams, and the nationally pioneered amateur football new mode and the new plan and new idea of this social competition, all of these have received extensive attention from the community.
At the time of bitter winter, the professional events such as Chinese Football Association Super League and Women's Super League have gradually faded out of the field of the fans, while the amateur football matches, which have high participation, high antagonism and team spirit, and consideration to competition, entertainment and fitness, were carried out one after another in the Sports Center and have attracted the participation of a large number of football fans. The frequent holding of amateur events not only enriches the mass sports culture life, but also promotes the development of the urban football.