The First Dalian Karate Coach Training Class in the Sports Center Completed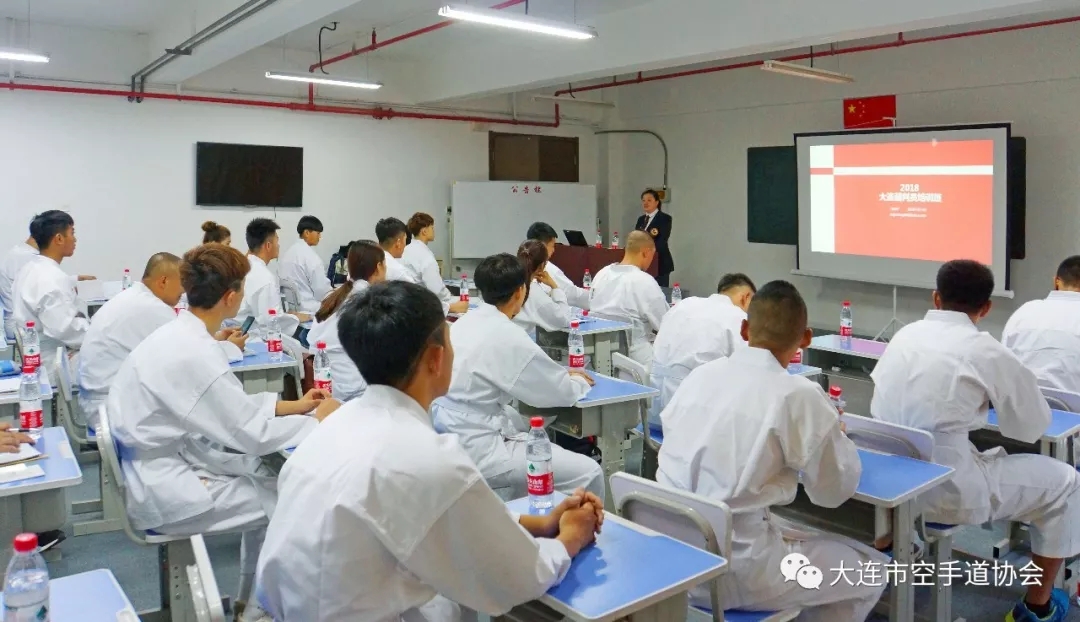 From Sep. 4 to 9, the first Dalian karate coach training class, sponsored by Dalian Karate Association and supported by Dalian Kaicheng Investment Group Co. Ltd., Dalian Taekwondo Association, Lianchengjue- Kaicheng Fight Club and Dalian Yousai Sports Culture Co. Ltd., was held in the comprehensive training hall of the Sports Center. 28 coaches from the brother provinces and cities and Karate Gym in our city have participated in the training. It is the first time that a training class for competitive karate coaches has been held since the founding of Dalian Karate Association in 2017, and the first time that a training class for karate coaches has been held in Dalian Competitive Sports Center.
The purpose of this training is to consolidate the foundation of karate training ability and comprehensively improve the training level of karate coaches. The training is mainly divided into two parts; the first one is the explanation of karate rules, which is taught by. The training is taught by MA Junting, the A-level chief judge of the World Karate Federation and the executive director of the Chinese Karate Association; and the other one is teaching of Karate techniques, which is conducted by DU Kun, the lecturer of Chinese Karate Association, A level judge of the national karate and also the fourth section of the black belt owner. This training course combines intensive teaching with interactive discussion. The course arrangement is reasonable and compact, the teaching form is rich and diverse. Between students and lecturers and among students, they can jointly discuss and fully communicate. The participants believe that the training fully takes into account the learning needs of all types of karate people, and the course content is highly targeted and close to the reality, so it is helpful to consolidate the foundation, improve skills and expand horizons.
As the main sponsor, Dalian Karate Association has been committed to the popularization and promotion of the city's competitive karate project, and constantly meets the actual needs of karate lovers and practitioners. By carrying out the training activities for coaches, the overall level of the coach team in our city can be improved, and a platform for coaches to communicate with each other and exchange skills is provided.
Since 2017, the Sports Center and Karate programs have become inseparable. From the International Karate Contest "Dashanbeida Cup" to the Karate Coach Training Course, a series of karate related events and training activities have successively blossomed in the Sports Center. The perfect training facilities and excellent management services are favored by more and more sports teams and training institutions.